Does your sales team need a bit of fun and a "refresh" of sales skills learned in a Winning Complex Sales (WCS) program some time ago? Well, we have the answer - the WCS Race.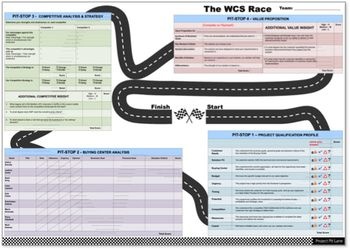 The WCS Race is fully-contained simulation that creates a competitive selling situation inwhich teams "race" against each for points which they win by applying their skills to analysing a sales opportunity and planning their strategy. Using a well-structured case study, teams of 4-5 people have the chance to demonstrate their mastery of skills including:
Opportunity qualification
Covering the Buying Center - understanding the people involved in the customer's decision-making process, and the roles they play
Needs analysis (business goals, personal goals, and decision criteria)
Competitive analysis and strategy development
Value proposition
Executive presentation
This compact 1-day program is highly scalable, and can be run for groups of 20 to 100 working in teams of 4-5 people. (Groups above 50 require supporting co-facilitators). The program is also highly flexible, and can be delivered in short modules during, for example, a 2-day sales meeting or product launch.
Customised cases can also be developed for specific industries (extra cost) to fit your company's specific learning requirements. Please contact Innovate+Grow for more details or a quotation.